DAY TWENTY-FOUR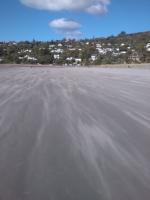 Saturday dawns with heavy rain and I'm off to a slow start, assuming that my plan to prepare the gate and shed door for painting won't be possible. But the sun comes out and eventually I'm out there with sandpaper and putty, the last of the primer and a cleaning rag. The gate is a fun job as a lot of people are walking up and down the zig-zag, most with a cheery hello.
When I've got things ready to paint on the next fine day, I set off on my bike, the head wind adding a resistance training aspect. I'm enjoying feeling stronger and more confident and I hope that will last when the traffic resumes. I stop at the beach for a walk, still into the wind for a while, then as it whips up the dry sand, I turn my back to it and enjoy the braided patterns of flying sand, wind made visible. A woman sitting on a log near the track back to the car park smiles and comments that she's drinking it all in. People are really enjoying being able to slow down and notice what's around us.
I whizz back with the wind behind me, unnoticeable until I see the effort cyclists going the other way have to make. As I push my bike up the zig-zag I notice the smell of the still-wet vegetation – macrocarpa, eucalyptus, a damp leaf-mould mossy smell and – cabbages? Do cabbage trees actually smell like cabbage?  I also notice the path is slippery with wet leaves and overgrown vegetation. It will be a while before the council staff get back to clearing it up so as I put my bike in the shed I pick up shears and a rake and clear up a couple of zigs and zags around my place. It doesn't take long and will benefit me as well as all those other walkers.
Finally, a thought about the link between giving up maths and the book review I wrote yesterday. At the time the change of subject wasn't such a sacrifice because the history teacher was inspirational. We knew her at first as Mother Jerome, later as Sister Pauline O'Regan, and her lessons for the senior curriculum on Elizabeth I were an introduction to feminism. Strange the threads that knit up together in life.