DAY THIRTY-TWO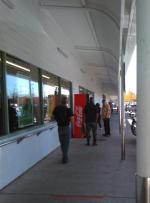 After our Zoom Quaker meeting, which includes ten Friends, I make a phone call to catch up with a friend and I stand in the sun while we talk about our week. Then I set off in search of a Sunday paper.
At the bottom of the zig-zag I cross the road into the path of a couple of friends I haven't seen for a long time. We stand apart and chat for a while then walk down to the corner together at a suitable distance while I tell the news of the new babies and how their families are going in these difficult circumstances. We part at the corner as they continue their six kilometer circuit and I head into town. The dairy doesn't keep newspapers and the garage is only doing petrol in an unstaffed, pay at the pump way so I'm off to the supermarket.
The queue is much longer than usual and, not being a fan of queuing, I try the small store on the main street but a glance in the door shows me that the paper racks are empty. I go back to the supermarket and stand on the last red mark. It makes me think of The Full Monty, when they start dancing in the dole queue, and I feel like humming You Sexy Thing, but the men at the end of the line might take it amiss. It doesn't take long to get inside and I pick up a paper and, in memory of our old tradition of hot bread on a Sunday, I take a freshly baked loaf.
I walk back past the event venue where sad posters advertise concerts that didn't happen. I settle down with my fresh bread lunch and the paper. It's an interestingly small edition. I guess it's been tabloid for a while but without all the classified sections it's not much bigger than a local free paper and I mistake the little glossy magazine for enclosed advertising. Actually I like it this way. The articles are interesting and there's no waste. Would buy again!
After some calls and a piano practice, I read some more of the paper, taking it up to the top of the steps to sit on my upturned recycling bin in the last of the sun.
There's a thoughtful email from a friend. She suggests that the restlessness we feel, the need to find a purposeful task, is because of the crisis. There's so much to be done and we want to help. Since retiring, my attempts to volunteer have brought no response. I go through cycles of putting out feelers, hoping to be useful, and settling down again into my small routine, quite content. For now, staying well and keeping in touch with friends and family is enough but I wonder what opportunities will open up when all this passes.