DAY THIRTY-ONE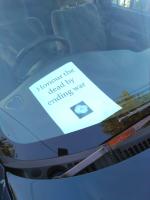 ANZAC Day. Before I went to bed last night I put posters in the car: 'Honour the dead by ending war' and told myself if I wake up I'll go up to the letterbox at 6am. So I'm not surprised to be awake at 5.40am. I wash my face and put a jacket over my pyjamas and climb the steps in the dark to stand quietly under the streetlights, listening to the distant sound of bugles from someone's radio. No one else is at their driveway, just one man marching up the road with a serious face. After a while I follow him up towards the lookout, but on the way I realise I'm facing west where it's even darker and I turn back towards a pale dawn.
Back at home I make tea and toast and go back to bed with my book for a while.
Later in the morning I talk to my sister. She's finished transcribing my parents' diary of their trip to Europe in 1984 and she's emailed it to me. I spend a pleasant hour reading it, Dad's laconic comments interspersed with Mum's enthusiastic descriptions of the Crown Jewels or other highlights, and her additons and corrections to Dad's narrative. It makes me smile.
In the afternoon I bike to the beach and along the boardwalk for a while. When I come to quite a cluster of people on the back beach, I turn back. Groups look hazardous at the moment. I lock up my bike and, sandals in hand, walk down the sand to the gentle waves. I walk in the water, checking out the temperature with next week's swim in mind. Yes, definitely doable!
As I turn to head back someone says 'hello' and there's the very friend who helped me get used to swimming in the sea. She taught me the game she and her brother played, swimming out till they couldn't touch the bottom, then swimming back in. It was a great strategy for getting used to the water, but at the time I was too scared to enjoy it. Over time I've made good progress though I'm still very respectful of the sea.
She and I chat a while and she mentions John Minto's open letter to the government on a way forward. She'll send it on to me and I'll happily back it. Again, we treasure the thought of using this opportunity to do better for the future.
I get back to welcome calls from my brother and, later, my son. I'm so grateful for these contacts. It's been a good day for family time and I don't feel isolated in spite of being alone.