DAY THIRTY-NINE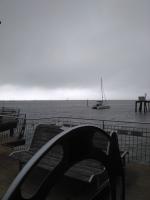 Another indoor day with heavy rain coming over in squalls, and lots of knitting.
Our Quaker meeting is attended by our Clerk who has been occupied over the past few weeks getting in his organic apple harvest, with the added complications of Covid-19 restrictions. He comments later that he can see how harvest festivals developed: after the hard work, a celebration is called for. Instead, he's feeling shut up for the first time, just as the rest of us are celebrating small – very small – freedoms.
Another Friend quotes the 12 Steps saying 'Let it begin with me', in the context of taking the initiative in reaching out to others if we're feeling lonely and is visibly warmed by being able to 'join bubbles' with close friends, a couple, who she at last could visit and hug.
We catch up on each others' news before we sign off and I make my own coffee in lieu of the friendly tea trolley that usually follows our meeting.
After lunch I grab my tramping jacket and set off for a walk between showers. At the top of the road I look out to sea where there are huge, frothy waves breaking in the cut, their roar clearly heard even up here.
Nearby I see two neighbours chatting and I join them (need I say it, at a distance) to ask about the elderly father of one and the children in Queensland of the other. All are well and we talk about our hope to be able to visit family in Australia before too long.
I go down the steps and along the waterfront where breaking waves almost reach the path. It's windy and exhilarating. The cafe has put up an umbrella and is still gamely serving coffee to those brave enough to drink it outside. It's not actually that cold, I'm a bit too warm in my jacket.
Back home I spend the afternoon knitting, talking to friends on the phone and reading. The news shows crowds gathering at the beach in Christchurch, where police attempt to encourage good distancing and explain patiently that picnics are not quite the spirit of the new level. It's amazing to see what a sunny day they're having and also what city beach behaviour is like. Here in Nelson we hit the beach and walk briskly to the far end and back – staking out a patch of real estate is for tourists!