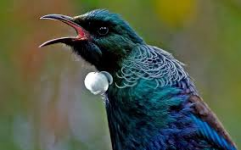 DAY TEN
Saturday. I'm happy to get on with the painting as soon as the day warms up. It takes most of the morning. When I open the 20 year old tin of red paint for the windowsills, I'm relieved to find that there's enough there, even if a little stiff and gritty, and it thins well with a bit of turps. I work away, listening to Kim Hill and her guests, mainly for the company but they are interesting enough.
I clean up, scratch up some lunch – crackers and peanut butter and some tiny pears from the tree at the bottom of the garden which suffered from a lack of water in January – and check my messages. My son has sent 'what self-isolator are you?' which uses native birds and descriptions in a parody of those management exercises. Apparently I'm the Tui: 'vocal about how well they're doing, very loud on Zoom calls, thinking about re-starting their old blog'. Oops, sounds true, also a bit annoying!
It's Nick's partner's birthday and her presents have all been from the supermarket. Usually the couple are very inventive and funny with presents. We have a family video call (yes, I probably was loud but we all talked over the top of each other!) and sing happy birthday when Nick brings out a little cake with candles burning. Ollie points out that the candles say 'birthday boy' but they were in the drawer. It's lovely to see everyone's faces and admire the babies.
I need to stay home till the paint dries enough to close the windows but I risk a quick dash to the dairy for ice-cream to join in the birthday celebrations. There's no one queuing so I'm straight in, telling the owner, 'I need a treat'. She agrees it gets like that. Resourcefully she has it all set up so I can scan the items myself and tap my card, all very safe. As I come out I tell a family of four, 'Your turn.' It looks as though they need ice-cream too, a reward for their exercise outing maybe.
I pass the time with calls to friends and when I think I can shut the windows without them sticking I head off on my bike with a drink and cookie in my bag to have on the beach. It's relaxing and calm down there with plenty of space and the water I paddle through, ankle deep, is almost warm. In fact, there's someone swimming quite a long way out, waving but not, I hope, in a 'save me' kind of way. As I turn to go back to my bike a woman in togs is walking towards the water and the voice from the sea calls, 'It's lovely! I can't touch the bottom.' Perhaps not what we want to hear when we've been told to stay out of the water and stay safe, but it's mill pond calm, I'm sure they'll be fine. Now that I've made up my mind not to swim I don't even feel envious. At least I know the skill won't leave me – like riding a bike, which by the way is improving with regular rides on quiet roads, it'll be there to pick up when I get return to the water.
Back home I make bread and a pasta meal with leftover roast pumpkin and the buck wheat which boiled dry yesterday. It's surprisingly good, the smoky flavour could almost be intended. I find I'm using 'surprising' a lot lately, mostly in a better-than-expected sense. Like the Tui, I really am doing ok, even if a little annoying.
I end the day with an episode of The Crown and go to bed with my book The Mirror and the Light: two examples of the British monarchy and its power plays. Interesting to reflect on the use and possible abuse of power in a time like this when governments in most places have taken on war-time levels of control. I'm accepting of the status quo and living very much in the present but now and then I wonder how we'll emerge from this.