DAY FORTY-EIGHT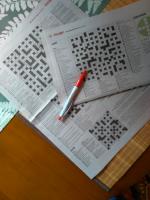 Another grey day and another busy one, mostly social. I have a couple of catch up calls, with a friend and with my sister. Then even though neither of us needs any shopping, I go round to see my friend who I've visited each week. This might be the last time we need to talk through the kitchen window. We chat about our next steps – haircuts, travel to see family – and about the new measures for Level 2. I'm unsympathetic about bars whose main purpose is to sell alcohol staying closed for another week – why do we even have places whose main purpose is to get people drunk? It's been a pleasure to walk through town, on the few occasions I have done that in the past weeks, without dodging vomit and broken glass. Do we have to go back to that? She doesn't agree entirely and thinks it's a minority who behave badly and others should be able to have a quiet drink. I realise I can get quite passionate about 'the demon drink'. Through my work, I've seen a lot of harm from it.
We talk for quite a while, standing there at the window. Next time we'll be able to go for a walk together.
On the way home I stop at the beach and walk along the sand with the sound of the breaking waves in my ears. The sky is grey and there are few walkers, one kayaker and one swimmer who is moving along strongly, parallel to the beach and towing an orange buoy. I thought the kayaker was marking the swimmer but they go their separate ways and the swimmer heads back to the seawall, going almost at my walking pace which is impressive in the water. It looks nice but I'll probably wait till the pool opens now that it's got cold.
Back at home I get some lunch and log in for the writing group's Zoom call. There have been a few stories shared by email but the feedback for those has also been done by email. We use the time to catch up with each other and ponder how we will get back to our regular meetings in the library. The group is noticeably smaller by Zoom, it doesn't suit everyone, but we'll also have to keep to the limit of 10 for social gatherings.
The afternoon goes by peacefully with piano practice, knitting and the crosswords from the Sunday paper. That reminds me of my son's word game which is quite addictive, so before making dinner I play a few rounds of that. I feel that I'm contented now, just waiting for change which is not far away.