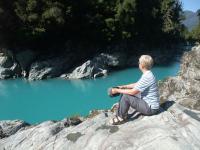 Eleanor Roosevelt wrote1, "You gain strength, courage and confidence by every experience in which you really stop to look fear in the face. You are able to say to yourself, 'I have lived through this horror. I can take the next thing that comes along.' You must do the thing you think you cannot do." As I've found, by chipping away patiently, 'I can't' becomes 'how can I?' and eventually 'I can'.
Watching the grandchildren approach the dozens of new things that come into their lives, it's easy to see how they need to develop courage and resilience to keep learning new skills and facing new situations. They seem, each according to their personality, to reach a point where their toolkit feels to them to be up to the task and they are no longer quite so thrown by a new situation. There's a lot of bravery involved in being a child. Growing old also takes courage. As Bette Davis said, it's not for cissies.
My comfort zone is my house and garden. It can be hard to leave, especially overnight, even when the opportunity is one I know I'll enjoy. When I mentioned this to a friend, she said, 'Resist!' It made me smile. I took the plunge and accepted another friend's offer to join her and her companions for a few days tramping and botanising in the hills. Not only was the environment and the weather amazing, the food and the company very enjoyable, but I was also pleased that I could cope with three days of fairly demanding walking. I can tuck that experience away to remind me, when another opportunity arises, that I am up to it.
It's easy as we get older to create a life which dwells in our comfort zone, especially if we retire from paid work which had its surprises and challenges. And to some extent, why not? Perhaps we've earned some peace and contentment. As we learn more about ourselves, we learn how to surround ourselves with people and activities that meet our needs. Most, like me, shy away from confrontation, so where will the challenges lie now?
For me, it's in physical activity and other people. The former I covered in the previous blog. For the latter, I don't go as far as Jean-Paul Sartre who said, Hell is other people. Other people are mostly interesting and a great pleasure but they can present their challenges, sometimes unexpected as when a friend disagrees with me on a subject that I thought we agreed on, or another disputes my experience on which I believe I'm the expert. But with friends there is at least an ongoing relationship to depend on and we can discuss things without falling out. Sometimes that's actually fun. In any group, however, there will be people who are harder to get on with. In the past I might have fumed quietly or avoided such groups but somehow these days it's easier to take friction more lightly, with a sense of humour or curiosity. I'm not sure what changed but perhaps I've absorbed some of the wise advice of writers such as Susan Jeffers2 who recommends wearing the world like a loose garment, not holding on to how it's 'supposed to be' but trusting that all is well.
As I watch friends and family cope with much bigger challenges, mostly to their health, I'm aware of the huge courage it takes to face the loss of abilities and the knowledge of a shortened future or one with unanticipated limitations. In such times it's even more important to see the possibility for growth in all experience and to face life's ups and downs with equanimity. While my challenges are small, I can cultivate courage and resilience, hoping to have a little in credit when harder times come.
1. Eleanor Roosevelt: You learn by living: Eleven keys for a more fulfilling life, Harper Collins 1960
2. Susan Jeffers: End the Struggle and Dance with Life St Martins Publishing Group 1997