What a marvellous time of year! After a rush to finish up my work commitments and tidy the garden, I've been in Wellington for two weeks of family celebrations. My grandson turned one year old just before Christmas and was surrounded by loving relatives and presents. His/our birthday treat was a day at a nature reserve where he was fascinated to see the animals and birds, mostly from the safety of his parents' or grandparents' arms.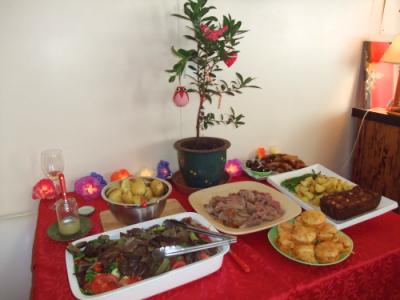 Then came Christmas Day when we gathered at my daughter's place. She and her partner had put careful thought into making room for us all in their small house and garden and decorating it with lights and a tiny NZ Christmas tree. We all prepared special food to share and drank wine and beer and talked together while the sun shone and the temperature rose. We had drawn names to chose who to buy one present for, with a cost limit agreed on. There was pleasure in savouring one or two gifts rather than being overwhelmed by something from everyone and the anonymous gifts were wonderfully apt and inventive.
By New Year's Eve more relatives arrived from Australia. The little one worked his charm and confidently expected to be the centre of their attention too  - which, of course, he was. Even where there were undercurrents of old hurts or conflict, the mood was of resolution and forgiveness. Perhaps the summer sun casts a benign glow.
And now I'm back home with more wonderful summer days to enjoy - walks and swims with friends, reading in the garden, catching up with people from out of town who are passing through. Even when I go back to work the slower pace and cheerful mood will persist, perhaps right through till Easter. Then, like the preserves which I make from the garden's produce, stored memories will have to carry me through the winter. Maybe a midwinter Christmas would bring the family together again and rekindle that glow.